Siberia, BAM, Lena River
Visit north-east Siberia, the Sakha Republic (Yakutia), and Magadan via the BAM railway, the Lena, Angara, and Vilyui Rivers, and the Yakutia and Kolyma Highways.
Find everything you need (and more) in Siberian BAM Guide - rail, rivers, and road / Includes North-East Russia's Siberian BAM Railway, Lena River & Kolyma Highway, 2nd edition, by Athol Yates and Nicholas Zvegintzov. Trailblazer Publications, UK. 2001. ISBN 1-873756-18-6.
Trailblazer Publications trailblazer-guides.com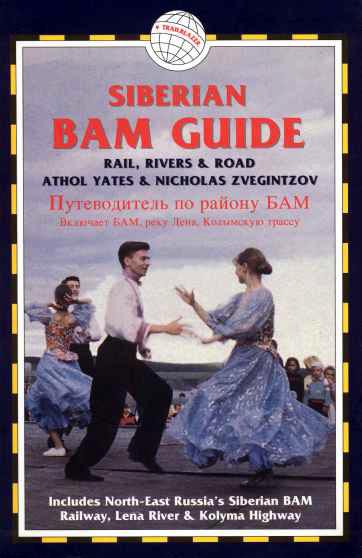 The slide show: Secret Siberia - by Rail, River, and Road
157 pictures and maps of sights and life in summer and winter along the the BAM railway, the Lena River, Lake Baikal, and Sakha (Yakutia), many not in the guidebook.
SIB03.ppt: PowerPoint 97 (14Mb)
SIB03.pdf: Acrobat PDF (14Mb)
SIB03.doc: Word 97 file with slides and notes (368Mb!)
TalkWeb/: Microsoft PowerPoint web page (uses ActiveX, will not run on Apples or Mozilla)
---
Nicholas Zvegintzov
141 Saint Marks Place, Suite 5F
Staten Island NY 10301 USA
telephone +1-718-816-5522
mailto: zvegint@hotmail.com
http://www.maint.com
---
www.maint.com/SiberiaBAMLena/
Home: www.maint.com
Photos ©
April 16, 2008